Team
Dr. Aimin Liu, BDS, MD, DDS
Educational Background
Dr. Aimin Liu is a proud graduate of Beijing University. In 1987, he entered Beijing University School of Stomatology (then Beijing Medical University) to pursue a degree for practicing Dentistry and Oral Medicine. During his college years, Dr. Liu was becoming passionate about Oral and Maxillofacial Surgery which saved many lives and dramatically improve patients' smile. Immediately after graduation, he determined to take the road of more training in Oral and Maxillofacial Surgery and was accepted into one of the best Oral Surgery program in China: Oral and Maxillofacial Surgery at Beijing University. Five years oral surgery training earned him a MD degree and he became an oral surgeon practicing at a prestigious hospital in Beijing. His work involved orthognathic surgery, facial trauma, dental implant, bone grafting and facial reconstruction. In year 2000, he was awarded DAAD-KC Wong fellowship and had the opportunity to study temporomandibular joint surgery, dental implant at Bonn University of Germany. In year 2001, he moved to San Francisco bay area from China. Admiring the advanced dental technology here in US, he chose to take the two year international dental studies program at University of the Pacific, School of Dentistry and graduated in year 2004 with honor. He practiced dentistry in bay area since then. His main focus is dental implant treatment and periodontal surgery, wisdom teeth extractions, oral surgery. He has completed thousands dental implant surgical procedures which include hundreds extensive bone grafting surgeries for severe bone resorption patients. Dr. Liu has successfully helped so many dental implant patients from younger (as young as 21 years old with congenitally missing teeth) to elder (as old as 96 years old), with just 1 tooth missing to all teeth missing, that his dental preactice has become one of the main dental implant treatment centers in San Francisco Bay Area.
Professional affiliations
Academy of Osseointegration
The International Congress of Oral Implantologists (ICOI)
Alameda County Dental Society
American Dental Association
California Dental Association
Alumni Association of University of the Pacific, School of Dentistry
PKUSS-OAANA (北京大学口腔医学院北美校友会)
Outside the office
Both Dr. Liu and his wife are volunteering many local community services when they are not in the dental office. Dr. Liu like traveling, photography, reading, and playing badminton.
Eunice Jong DDS, MPH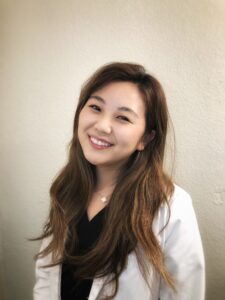 Dr. Eunice is a dentist with a background in public health, education, and research. She graduated from UC Berkeley with a B.A. in Molecular Cell Biology and minor in music. While a part of the Undergraduate Research Apprenticeship Program at the Caldwell lab, she developed an interest for research and moved to Boston to pursue it at Harvard University. She then continued her research pursuit and received her Masters in Public Health with an emphasis in Nutrition at Loma Linda University with honors. After working at a school district focusing on a Nutrition Education Intervention study and grant proposals, she made the decision to become a third generation dentist. She completed her DDS at Loma Linda University, where she graduated with the CDA Research Honor Award and was a AAID Research Grant Recipient.
Dr. Eunice has volunteered dental services locally in Berkeley and San Bernardino, in addition to internationally in Honduras and Peru. She also values continuing education and has most recently completed 300+ CE units in implant dentistry and is a AAID Associate Fellow Candidate. Being multidisciplinary has allowed Dr. Eunice to bring a unique perspective to patient care in addition to allowing her to work effectively and collaboratively with staff and other specialists. She believes that patient education is essential to prevention. Listening always matters, and she loves translating that interaction into providing excellent and compassionate dental care.
Outside of the Office
Dr. Eunice is married to her husband who she's known since college, and has a baby girl. She is native to Southern California and will travel down at any chance she gets. She and her husband love being involved at their local Christian church, hosting friends and family, playing tennis together and traveling; their most recent trip was to see the Christmas markets in Germany and Austria.
Professional Societies
-American Dental Association
-California Dental Association
-American Association of Implant Dentistry